Thank you to the Great Lakes Advocate for sharing an article on Deb Hopper this week.
Great Lakes Advocate January 2016


Full Article Below:
---
Local Occupational Therapist Deb Hopper
Achieves Amazon Number 1
Best Selling Author for New Book

Deb Hopper, Forster local Paediatric Occupational Therapist has recently achieved her dream of becoming a published author after her new book achieved Amazon number one best seller rank recently. Her new book Reducing Meltdowns and Improving Concentration: The Just Right Kids Technique hit number one in her categories in the first hour in both the US and Australian Amazon Kindle websites.
"It was a totally surreal and nerve-racking experience pressing the publish button and waiting a few days for the rankings to start tracking," reports Deb Hopper, who is a local Occupational Therapist at Life Skills 4 Kids in Forster.
"I started developing a new practice model and program called the "The Altitude Program", and this bestselling book is an introduction to basic concepts to help children control their emotions and behaviour.
Deb has also recently presented this at the Asia Pacific Autism Conference in Brisbane and the National Occupational Therapy Mental Health Forum in Sydney late last year.
"Concentration skills and knowing how to control emotion and behaviour are skills we expect to come naturally to children, we forget that these skills must be taught just as any other. Once a child has mastered these basic life skills everything else will start to fall into place," reports Deb.
Deb is passionate about teaching children self-regulation and the ability to recognise, name and learn how to control children's emotions and improve concentration, and does this locally at Life Skills 4 Kids Occupational Therapy in Forster.
'The Altitude Program' teaches children through a fun, play-based model using the analogy of their body being a 'plane' and that we need to teach our body 'plane' how to 'take off', and 'fly' through the day and avoid 'crash landing'.
"We teach children that like a plane, sometimes our bodies feel like we are going 'slow' (when we are tired), sometimes we go 'too fast' when we are hyperactive, busy or fidgety, and sometimes we feel 'just right' (when we can concentrate and learn in class)," says Deb.
"The next level of teaching emotional regulation and control teaches children that sometimes our body (plane) flies 'too high'. This is where our emotions get too high or angry. Our emotions can be too low in mood, when our plane is too low, and this is where we can feel sad or down. There is also the black 'crash zone', which is where children are in the tantrum, meltdown or 'crash zone'", explains Deb.
This model has also been used successfully with Deb's adult clients who struggle with managing stress and their emotions in her Forster clinic.
Deb's bestselling is available on Amazon Kindle and in print.
"It has been great to receive peer feedback from these international and national conferences and I am looking forward to publishing The Altitude Program, my next program as an invited speaker at the Early Years Early Childhood Symposium in May", reports Deb.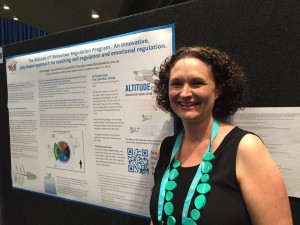 Deb presents at the Asia Pacific Autism Conference in Brisbane 2015
Below, the model Deb has developed which is the basis for teaching self-regulation for children and adults.
Teaching Kids to Manage Anxiety: Superstar Practical Strategies (eBook)
Kids today are growing up in a fast-paced world where information and opportunity overload can be overwhelming.
Based on many years of clinical experience as an Occupational Therapist, Deb Hopper has been using her Just Right Kids® Model to teach children to communicate and manage their stress and anxiety by:
– Identifying their "body speed",
– Understanding their stress triggers, and
– Implementing simple strategies to reduce anxiety and stress.